Overlander in development
Forum Moderator
Supporting Member
U.S. Military - Veteran
TRS 20th Anniversary
TRS Event Participant
Joined

Feb 7, 2016
Messages

9,858
Reaction score

6,530
Points

113
Age

57
Location
Vehicle Year

1993
Make / Model

Ford Ranger
Engine Type

3.0 V6
Engine Size

3.0L
Transmission

Manual
2WD / 4WD

4WD
Total Lift

6"
Tire Size

35"
My credo

In theory, theory and practice are the same. In practice, they are different.
Ah. Home at last. Before I post photos, I'd just like to give a shout out to Josh (hope I remembered his name) who has a mid 90's 5.0l Explorer. He came over asking questions about my truck while I was fueling at Eldorado Outpost this morning for my trip home. He wants to do a SAS and looked to see how I built my snorkel intake. I invited/encouraged him to come join us here.
Early in the day, we hit this slope. The tree root was determined to pull wheels to the right so you would just run into the tree. 2 vehicles had to be winched here. The trick was to keep your front wheels turned hard to the left and get your front passenger tire was over the root early at the lower end. Also, a fair amount of momentum and skinny pedal to keep moving up the muddy hill.
This turned out to be a fun rock pile.
I tried this line. Straight in towards the left of the tree. Then you had to make a hard right over some rocker panel bashers. That rock right in front of the tree stopped me. It kept making me slide to the right. It also claimed the life of a tie rod on a Jeep. I decided not to hit it hard enough to break stuff and backed out.
This is the ride organizer. He didn't make it as far as I did. But to be fair, his truck is much heavier and his tires not nearly as new as mine.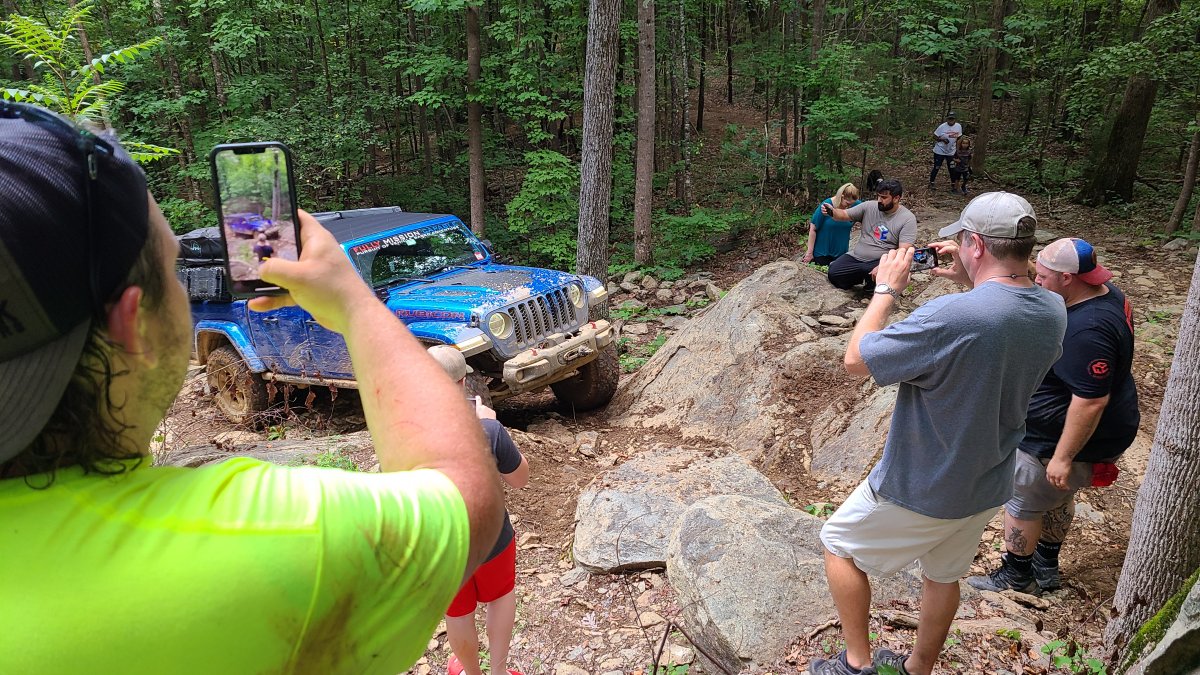 This was a successful run on that line.
This was a good little challenge. I went through pretty easy. One of the places where I did come down hard on a rock. Don't think I damaged anything. I'll know better once I get a chance to wash the truck and inspect the bottom.
Another small rock garden.
My adventure buddy loved it.