Hello everyone!
Just made an account here and this is my first post on TRS, though not the first ranger I've owned. My current '91 Ranger is only temporarily mine, I bought it for $300 as a gift for my dad, cleaned it up and got it running. Now I'll be driving it while I'm back at school and leaving my daily driver '89 F150 home in KS, so I don't have to keep driving between FL and KS every Summer. Once I finish school the Ranger will be making its pilgrimage home and my F150 will be back for good.
The first Ranger I owned was not mine, but my dad's 2000 Ranger, which met a sad end trying to play chicken with an oak tree.

The road was wet and the tires started slipping around a curve, and unfortunately I wasn't able to regain traction. I kept the engine and transmission though, which are both (hopefully) still good and can be used for the '91 that has the same setup with the Lima inline 4 bolted to an M5 trans. That, or I'll use the engine for some other project I'm sure to take on.
Here's the only good picture I have of the '91 at the moment: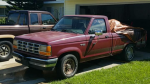 For $300, the body was solid and the only thing keeping it from running was a bad relay, so I got really lucky there.