Joined

Feb 15, 2020
Messages

2,869
Reaction score

2,389
Points

113
Location
Vehicle Year

2021
Make / Model

Ford ranger
Engine Type

2.3 EcoBoost
Engine Size

2.3
Transmission

Automatic
2WD / 4WD

4WD
Total Lift

2.5" level
Tire Size

255/75/17
I got a 1980 Honda 110 atc in trade a few years ago. It was great fun, until the motor lost all compression after a few quick rides. Started swapping in a 125 manual clutch pitbike motor, then life got in the way and it sat unloved for quite awhile.
Here it is in all its basketcase glory. Pretty well clapped out.
She's about to get a long overdue freshening-up. New wheels, tires, bars and risers, grips, pad and controls, seat cover, all new bearings, wider rear hubs, fresh paint.. the works.
A previous owner was too lazy to aquire an actual front axle nut at some point, so they just welded the front axle to one side of the forks.
Had a few free minutes yesterday so I started the process of "fixing" that with a grinder and a hammer.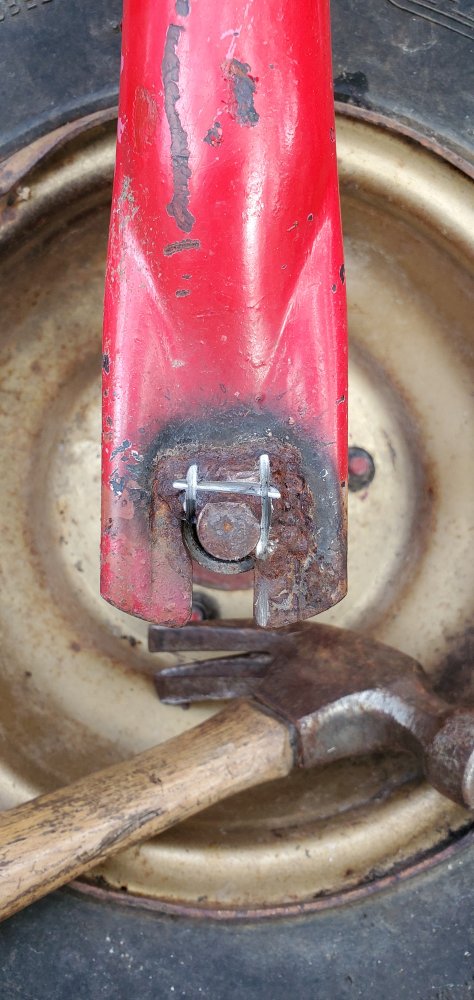 Thats about as far as I got. It'll take some precision work with the grinder still but its not entirely unsalvageable, this isn't going to be a museum piece after all.
Had a minute today to get everything on the handlebars. still need to get a kill switch, and decide what I'm going to use for risers.
*Using brakleen to slide the grips on is the best method I've ever used. Beats the hell out of hairspray or even grip glue. The brakleen gives you just enough time to get them on and straightened out before it dries and the grips are stuck to the bars like those gray sweatpants to dirtman.
Hopefully I'll find more time this week to finish grinding the forks and get the rest of the machine disassembled and somewhat prepped for paint.