Joined

Dec 2, 2020
Messages

31
Reaction score

8
Points

8
Location
Vehicle Year

2002
Make / Model

Ford Ranger XLT
Engine Type

3.0 V6
Transmission

Automatic
2WD / 4WD

2WD
My truck makes a humming/whirring noise that seems to reverberate up through the bed and cab as I accelerate and am maintaining 25-50 mph speeds. Even at highway speeds, you can still hear it.
I have thought that most likely it is the rear differential with a bad pinion bearing or something causing the noise. (I don't know exactly what that bearing does, but I do know what the diff's role is, and that the bearing is tough and expensive to replace). It is not a limited slip. I'll post the tag code when I can remember where I put the thing/pull it from an old post.
I have looked at the rear diff twice now. There are no chipped or ground gear teeth. In my opinion the diff looks like it's in really good shape. The first time I looked at it almost a year ago, the fluid was milky gray and looked pretty bad/old. I obviously, changed it sealed it back up, and this time I looked maybe 10k or more miles later it looked pretty good/fresh still. Here's a picture I took of it last night, I'm not sure if the spacing where the arrow is is normal or not, but that's the only thing that looks possibly off to me.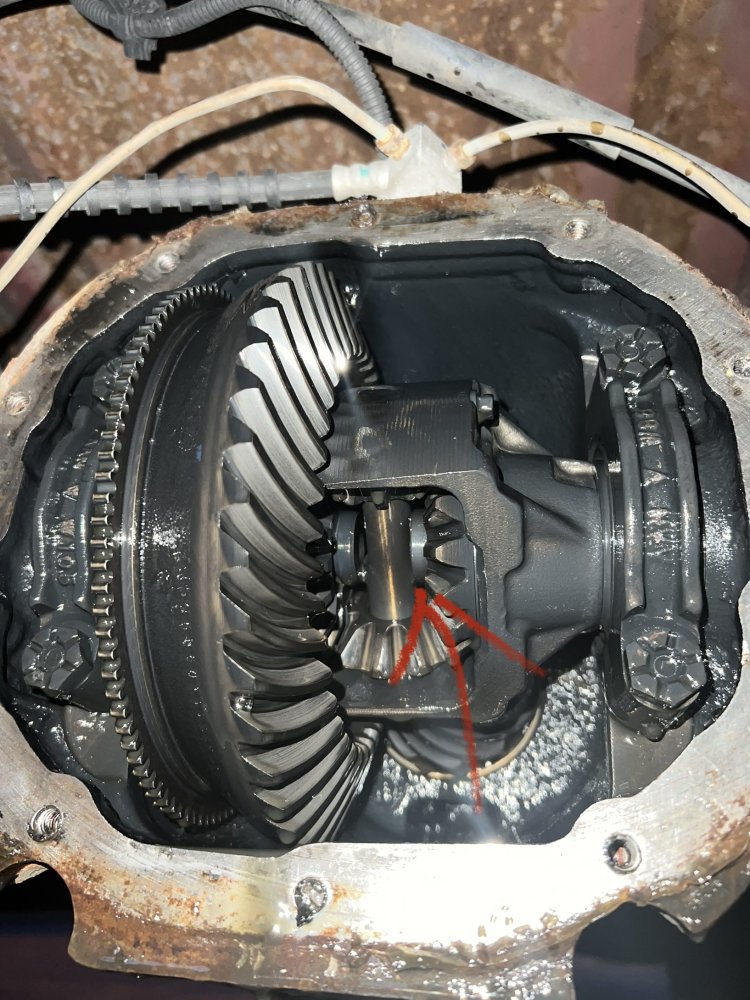 I am thinking I need to remove the driveshaft, rotate it and watch the diff cycle through maybe. Then I was thinking I should probably replace the U-Joints and see if the humming noise persists. I'm asking for your guys help to identify the proper U Joints to buy from Rock Auto or AutoZone to replace them with. Additionally, any recommendations for things I may as well replace while I'm doing the U-Joints to possibly solve the noise? Is there anything other than the rear differential to check for making the noise? I don't think it's the transmission? I dont really ever have issues shifting gears or anything.
Do you think my only other option if none of that works is to junkyard swap a whole rear axle assembly?
'Thanks in advance for your help.