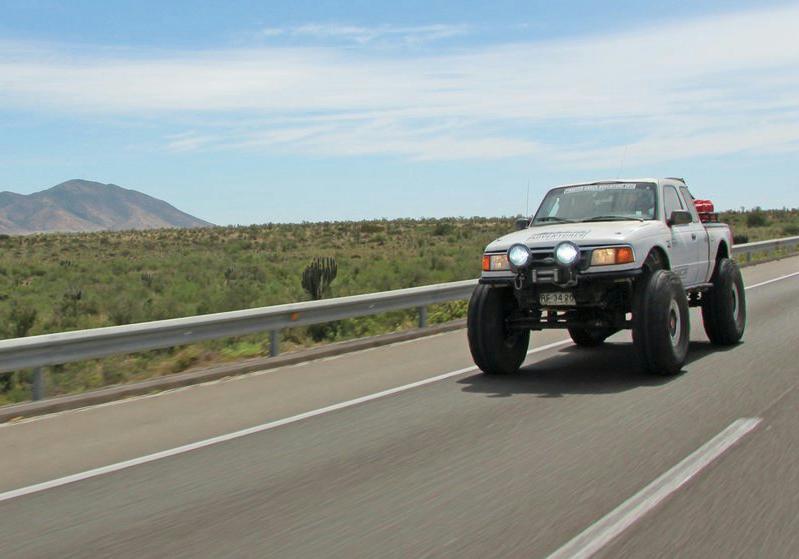 Submitted By: Jim Oaks
Many of us build our trucks for adventure. Memories are what make life so rewarding, and memories come from doing things.
Continental Divide: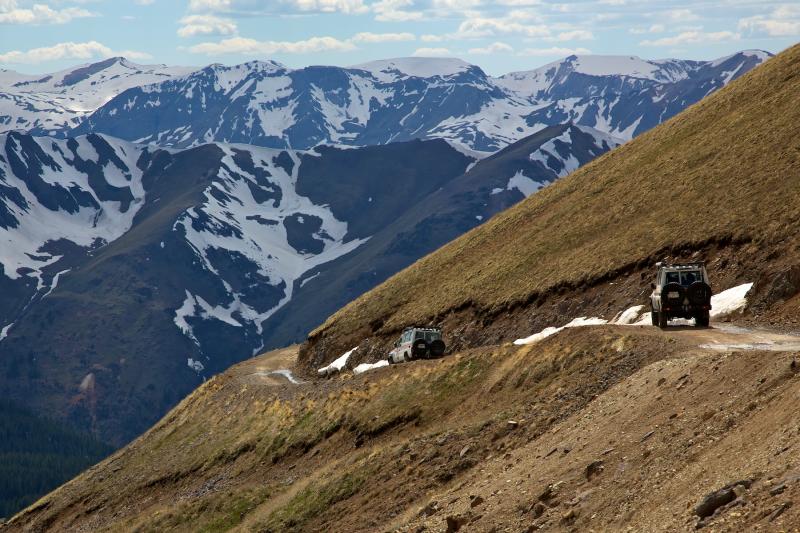 (Continental Divide)
The Great Divide route was originally developed by Tom Collins of Camel Trophy fame, creating a continuous adventure from southern Canada to the border with Mexico, following the Continental Divide as much as trails and roads allowed. Originally completed in 1989 with Range Rover Classics, the route has since taken on several personalities and a variety of difficulties. While Collins has never fully published the exact route, it can easily be pieced together using the original video and a USGS topo map app. (Also, see the Google Maps link below)
The divide adventure starts in Banff, then the international border at Glacier National Park before crossing briefly into Idaho. It continues through Yellowstone National Park and into Colorado, where the technical challenges increase dramatically. Intermediate routes start south of Steamboat Springs and then turn difficult in the Rio Grande National Forest. The fun ramps up even further near Telluride and then wanes into New Mexico. Sporadic challenges continue all the way to the border with Mexico. With the completion of the Continental Divide, you will have traveled one of the most difficult and visually stunning overland routes on the planet.
Planning resources: Google Maps - GPSKevin
Trans America Trail: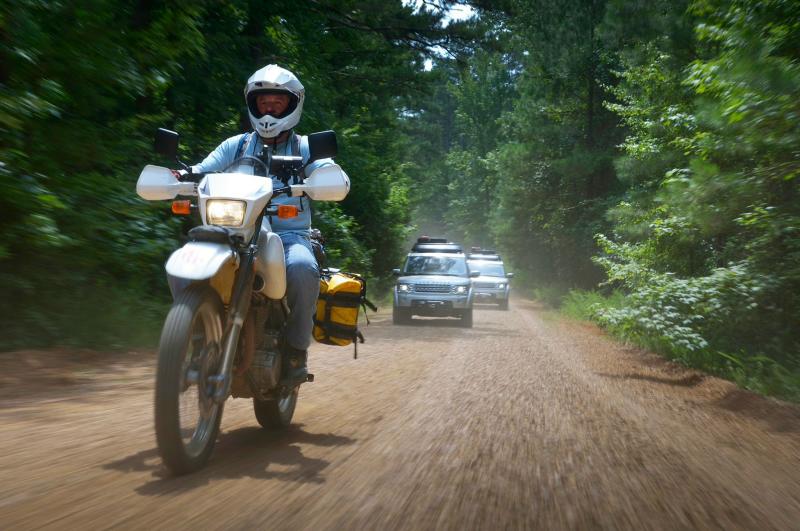 (Trans America Trail)
Few realize how big the continental United States really is until they try to ride a motorcycle across it on dirt. This top overland route is the brainchild of Sam Correro, an avid motorcyclist and traveler. His goal was to create a 5,000-mile adventure from Tennessee to the Oregon coast, primarily off-highway. While this route is primarily designed for mid-weight adventure bikes (think Kawasaki KLR650), it can be ridden by bigger machines with experienced riders or even driven by 4WD. The route has been extremely popular with adventure riders because of the technical difficulties and genuine remoteness achieved along the way. In 2013, Land Rover veteran Tom Collins led a group of LR4s across the route, garnering wide media coverage and establishing the "TAT" as the must-drive overland route in the USA.
The great charm of the TAT is the variety of terrain encountered and the remote locations that few ever visit. From dense (and muddy) forest in Tennessee to the rocky mountain passes in Colorado (including Hancock and Tincup) the TAT climbs and winds through 10 states before terminating at the rugged Oregon coastline. When I rode the TAT in 2009 it was a truly exceptional adventure and I have long since forgotten how many times I had to pick up the KTM 950- only the great memories remain. transamtrail.com
The Utah Traverse: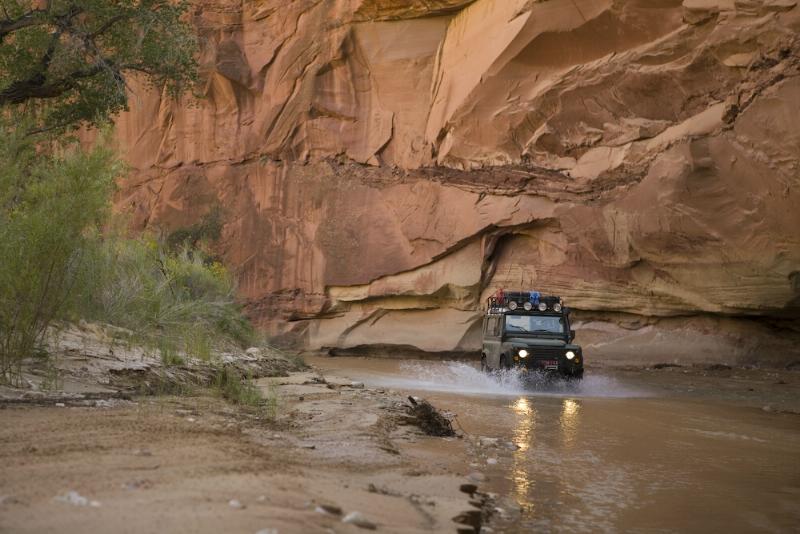 (Utah Traverse)
The Utah Traverse is a 10-year passion project for adventurer and filmmaker Sinuhe Xavier, who's spent countless days and nights exploring the best possible all-dirt route across Utah, connecting the most breathtaking vistas with the most captivating campsites.
This route is not for the faint of heart or vehicle, many tracks requiring a high-clearance 4WD with low range and legitimate driver experience. The route is also intentionally vague, piecing a loose connection of destinations and trails with, er, nothingness. This means a real dose of adventure and a full helping of logistics. Think of it more as a treasure map then a track you can load in the Garmin. Point "A" is Mesquite, Nevada and point "Z" is Telluride, Colorado: Highlights include Ruin Canyon, the Needles District, the Colorado River, Salt Creek, Beef Basin, the Aquarius Plateau, and Comb Ridge.
Southern Utah Traverse GPX File
Dempster Highway:
(Dempster Highway)
National Parks Route: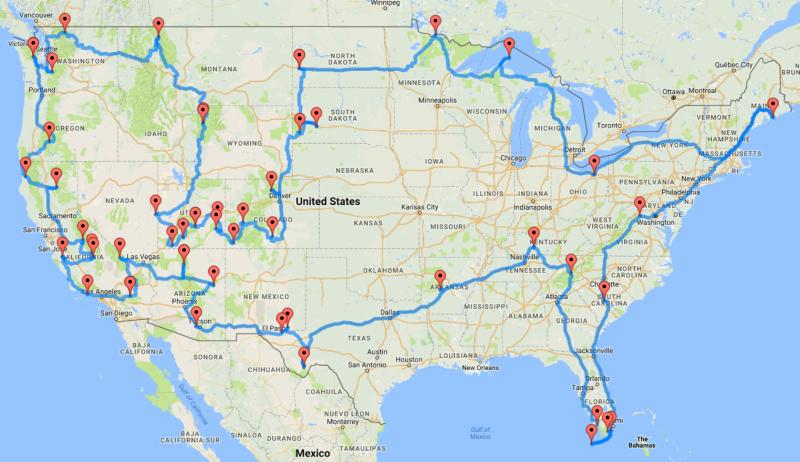 (National Parks Route)
UPenn senior data scientist Randy Olson has determined the most efficient path to hit up every national park in the lower 48. That's 47 parks in total. The trip can be accomplished in about two months if you're not dilly dallying. Here's an interactive version of the map, and the full list of parks on Olson's site.
Off-Road Parks: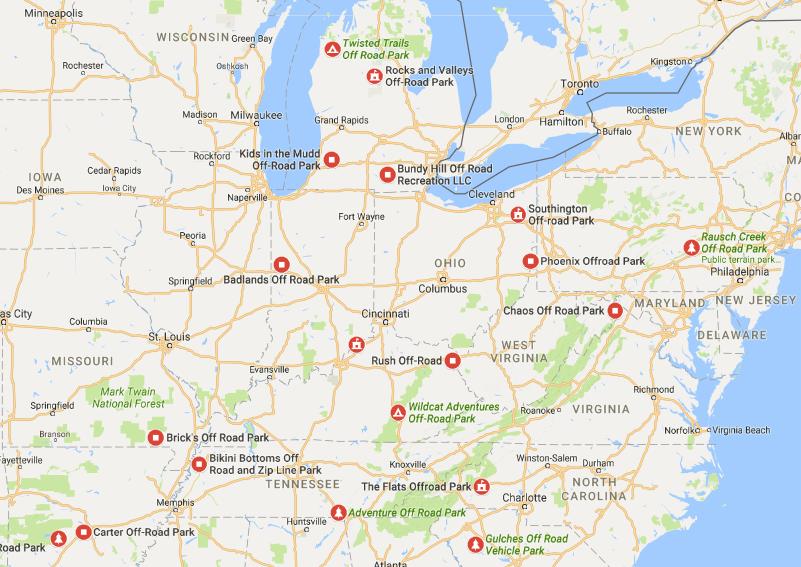 (How Many Off-Road Parks Can You Hit)
Have a week off of work/school and want an off-road challenge? You could always start the weekend off by going to an off-road park, continue through the week, and see how many off-road parks you can hit by the end of the following weekend.
Pick An Old US Route: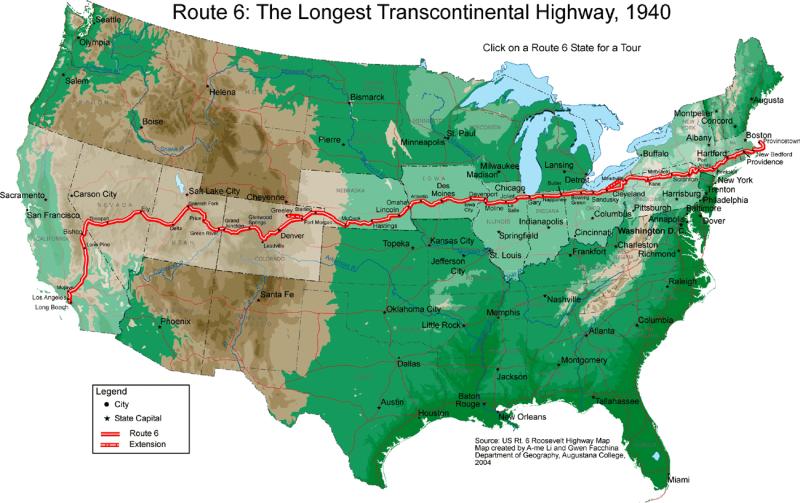 (Pick an old US Route)
This is one of my personal favorites. More than likely, there is a US Route close to where you live. I'm not talking about the Interstate, I'm referring to roads with signs that look like this: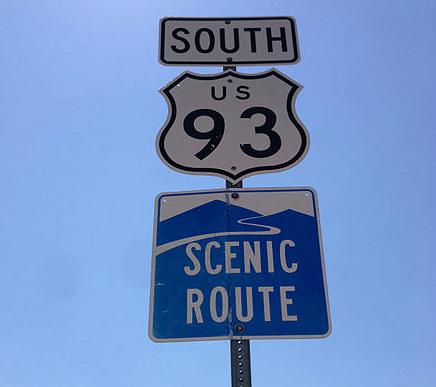 Have you ever stopped to wonder where that road actually stops and begins? Growing up in the suburbs east of Cleveland Ohio, US Route 20 was a main east/west road through the cities where I lived. While looking at a map one day, I realized that if I kept driving west on that road, it would actually take me to Yellow Stone National Park. Before the days of the interstate, these were the main highways across the country. There are a lot of roadside attractions, history, and scenic views to be found traveling these old highways. Sometimes when I want to take a roadtrip, I simply pick a US Route and follow it. Keep your eyes open, and you'll likely find something you'll want to take a photo of.
Route Unplanned:
(Route Unplanned)
Mike Prichinello, of Classic Car Club Manhattan fame, thinks the best road trip route is one you don't plan. Just have a general idea of where you're going and be spontaneous.
I've actually done this before going from Ohio to Tennessee, and found some pretty interesting things such as roads that passed through jagged hand carved tunnels, and a park with beautiful waterfalls. To really enjoy the adventure, keep your eyes open for signs pointing to attractions, and don't get to caught up with having to get from point x to y by a certain time.
Google Maps - Avoid Highways: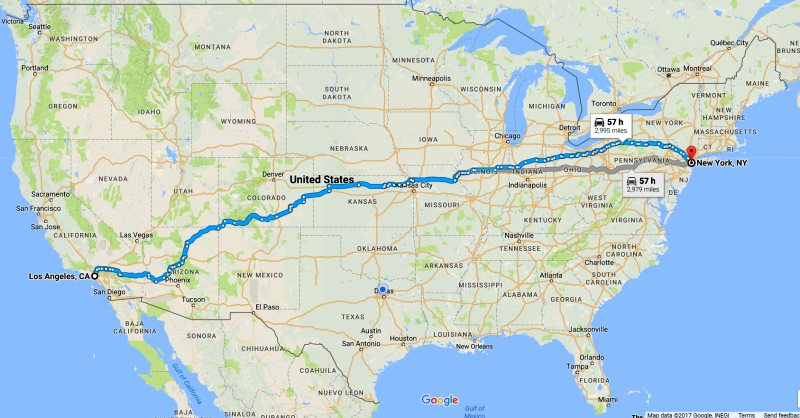 (Avoid Highways)
Here's a fun choose-you're-own-adventure approach to crossing the country. Go to Google Maps punch in where you're starting and where you're ending, check "Avoid Highways" and there you go.
Have you taken a roadtrip or other off-road adventure and want to share it with other enthusiasts? Post it in our Trip Report Forum!