By Will Wills
Suspension--Stock Versus James Duff
(Click Images For Larger View)
Last issue we covered the installation of James Duff's 3" Class 2 suspension lift and gears on my '91 Ranger. This issue, I completed the article for the installation of the front locker--the truck was already equipped with a rear one. Also, I had mud tires put on the truck. Though the truck performed really well at the Spring Round-Up, I had still not done a direct comparison between the stock truck and the modified truck.
Before I could do that, the urge to own a vehicle with more than 2.5 seats struck me and I bought a Bronco II. I quickly transferred the parts from the Ranger to the Bronco II: locked Dana 35 and 8.8" axles with 4.10s, Duff suspension, and 31" Kumho Venture MTs. Now, with the new vehicle completed I could finally get it out on the same trails that I tested the Ranger on and do a direct comparison between stock and modified. In the pictures that follow, both trucks have the sway bars removed.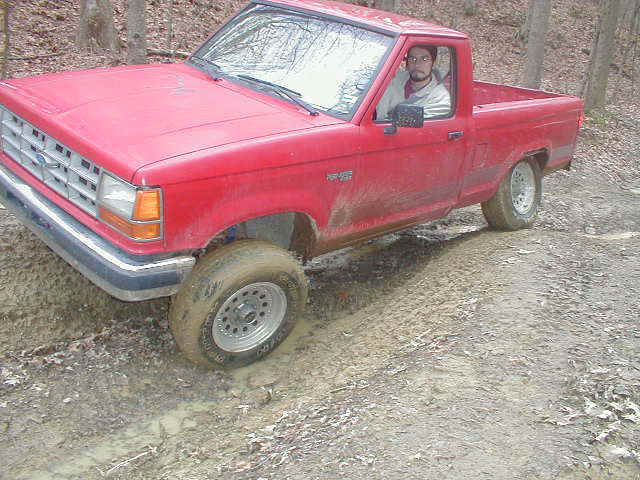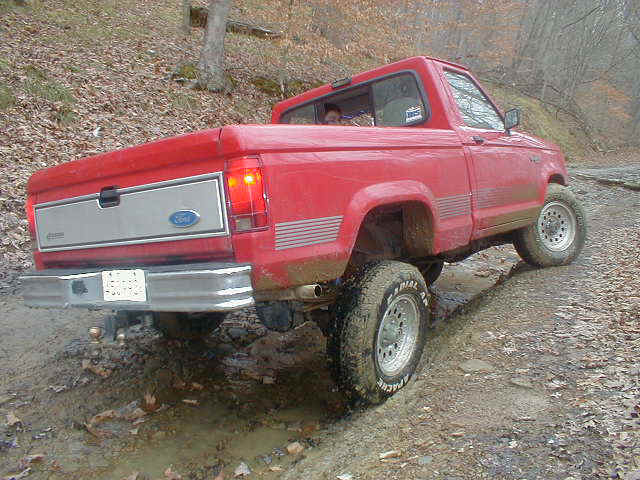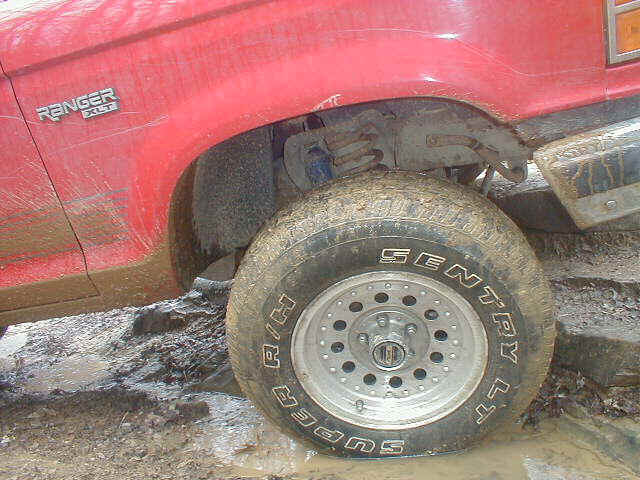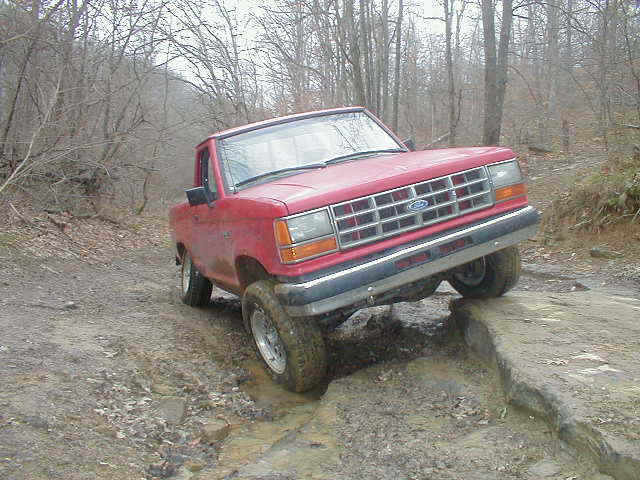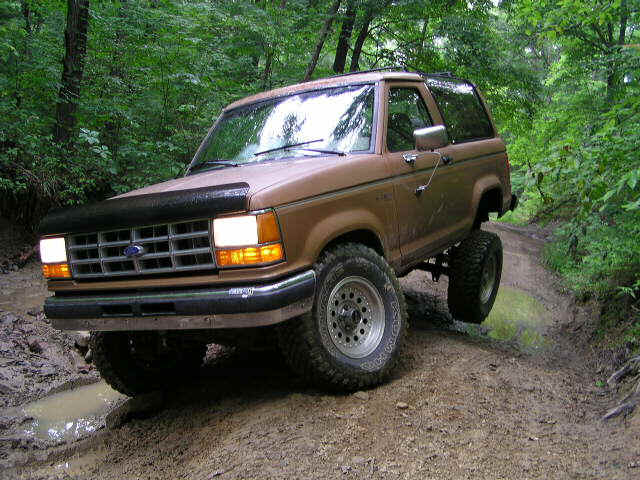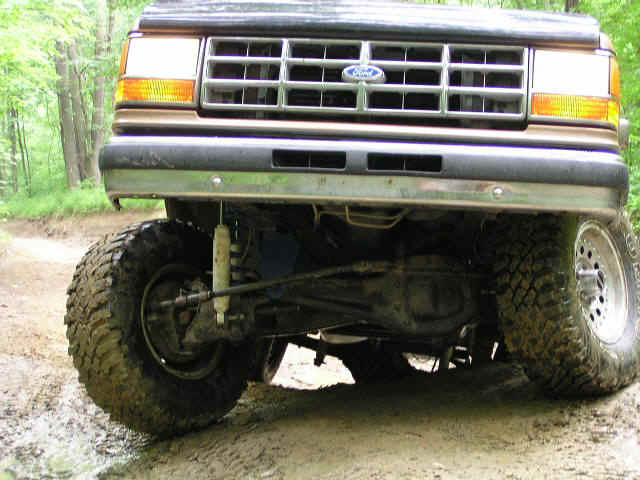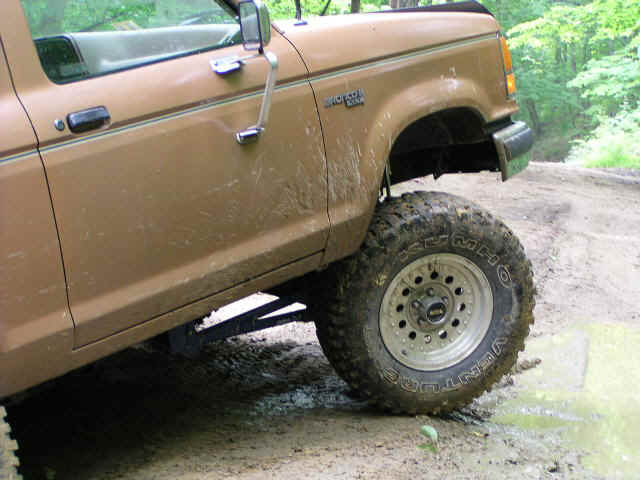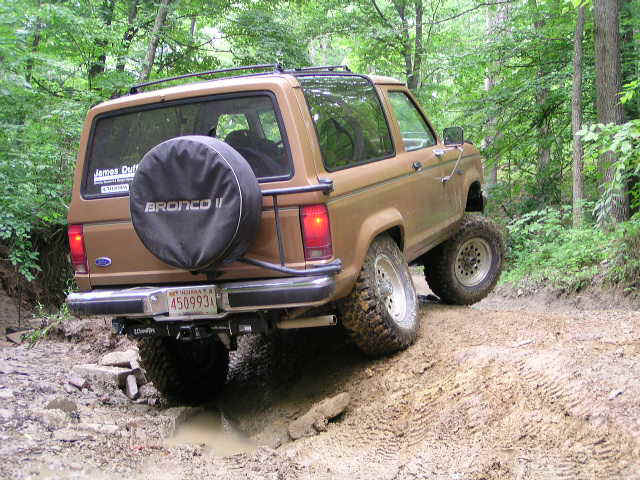 There is no question but the the Duff suspension has a ton more travel than the stock stuff. The Duff travel is limited by the shocks being about 1.5" too short. The stock suspension was limited first by the radius arms and then by the shocks and springs. The stock suspension travel in these pictures was measured at 9" in the front and 17" in the rear. I was hoping to gain 3" of front travel and I believe I have easily done that. I did not have a tape measure with me for the modified test but I think there is 13-14" in the front. As far as the rear goes, the stock Bronco II springs were used and they seem to be less stiff than the Ranger springs. The 31" tires on the Bronco II were rubbing when the tires stuffed, but I think about 20" of travel is present. With the Duff suspension, the truck crawled over everything like a spider and I had to work at it to lift a tire. With the stock suspension, three on the ground was about the norm. I will say that even with only a 3" lift and 31" tires, the Bronco II is way more tippy than the Ranger was with the same parts on it. I am pretty sure that I will eventually put a Ranger cab on the B2 chassis when I get something else to haul kids in.
But the best gains were actually in drivability on the road. The Duff dual shock set-up gives the truck great control on the worst of roads. I think that since the powerful shocks actually absorb the energy from a bumps and sways and release it as heat rather than storing it and unloading it, the truck is much more stable. The Duff suspension is definitely a suspension that is made to be driven: driven anywhere.