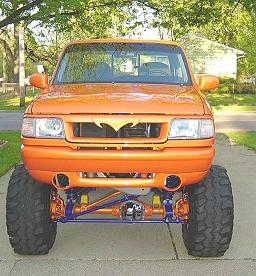 Story by Jim Oaks
In June of 2003 I had the chance to run in to Dave Osborn and his awesome Ford Ranger. Working as a State Trooper, I saw Dave driving down the road and stopped him for a height violation. Since he was registered in another state I couldn't take any enforcement. When I approached him I said 'What, doesn't Michigan have lift laws?'. He told me what the truck had as a suspension and how it was legal in his home state. I told him what axles, how much lift, and what size tires he had and how it was excessive. He looked a little surprised that I knew what I was talking about. Hey....State Troopers have lives and hobbies too you know! I gave Dave my email and urged him to send me some pictures and information of it.
Dave bought the truck in 1995 as daily transportation. It had about 8,000 miles on it at the time, and was born as a 1994 splash x-cab. It had performance red paint, a 4.0-liter V-6, a A4LD automatic transmission and stock suspension. Dave drove it that way, with just a few accessories and small lift kits added until 2001. In 2001 Dave swapped the axles to the Dana 44 front and Ford 9-inch rear. He was finally able to store it in the winter and drive his Taurus as daily transportation.
In August 2002, he pulled it into his shop after the last show of the year and started tearing it down. In May 2003 he got it finished to this current state of completion.
Here's the run down:
Tires: Super Swamper TSL-SX 35x15.50 15
Wheels: MT Classic II 15x12
Lift: 10 inch Fabritech straight axle conversion up front, custom made 11-inch lift in rear comprised of 6-inch Skyjacker springs, 2-inch add-a-leafs, 4.5-inch custom blocks. Also running a custom machined aluminum body lift.
Paint: Xotic light orange pearlin on the body, axles, and traction bars. Xotic dark blue pearlin on suspension.
Body Modification: Shaved door Handles, tailgate handle, wiper fluid squirters, emblems, firewall, front bumper hole. Steel roll pan in rear with custom license plate bracket. The hood and tailgate were made by Dave's company, Justwin Motorsports. The raised 3D effect is 16-gauge steel that is permanently bonded to the body panel. Dave used the factory grill and customized it to tie into the hood design.
Axles: Dana 44 and 9-inch rear from a 1973 Bronco. Front axle had drum front brakes, so Dave took the steering knuckles off of an axle that went to a 1979 Bronco.
Gears: 4.56 Superior.
Engine: 5.8L 351 Windsor with factory Fuel Injection. Wired by Jeff Dunne at Ford Racing.
Transmission: AOD with B&M 2200 stall converter. Advanced Adapters t-case adapter and stock ranger push-button 4x4 transfer case.
Other notables: Custom interior including shaved stock dashboard. 6-coats of fiberglass resin. Tweed covered interior panels. Suicide hood hinge, electric linear actuated tailgate, 16 gallon Jaz fuel cell in the bed, checkmate flush mount bed cover, custom bent exhaust with true-dual 50 series Flowmasters, Holley pro-jection fuel pump, custom made steering shaft using u-joints from a Cadillac and Chrysler, and clear front corners and rear taillights.
(We're missing the fullsize copies of these images. Contact us if you have any)
Watch for Dave's website www.justwinmotorsports.com. It is still in the development stage.
Also watch for Dave's truck in an upcoming issue of Tailgate Magazine. Tailgate is a magazine put out by the same company that does Easyrider, so they brought in their own models to pose with the truck. Dave says that by the end of the shoot, the girl was completely naked.