Story by Bentwrench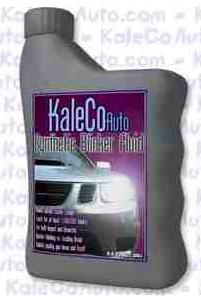 [Click Picture To Order]
Are you blinkers sluggish? Do they make an annoying ticking noise? Do they not flash fast enough? Here's your solution. Little do people know, factory quality blinker fluid should be changed every 150,000 blinks. KaleCoAuto blinker fluid lasts ten times that. KaleCoAuto high quality synthetic blinker fluid meets the highest DOT standards while not being in the least bit DOT legal! KaleCoAuto blinker fluid provides you with thousands of hours of reliable blinking without the wear and tear on the flash-synchro's that the other blinker fluids cause. KaleCoAuto blinker fluid will not lose its viscosity even in the most extreme situations. Why buy that old dino-blinker fluid, when you can get our unique patented synthetic formula? Satisfaction guaranteed!!
How To Replace:
1) Locate the blinker reservoir behind the driver side headlight.
2) Remove drain plug at the base of the reservoir and drain in an approved container. Take the fluid to your favorite parts store for recycling.
3) Refill using kalecoauto's blinker fluid.
4) Turn on ignition key and test blinker for operation.
The views and tips expressed here by Bentwrench are done so for entertainment purposes and do not necessarily represent actual mechanical techniques, parts, problems, diagnostics or procedures.