Lift Kit Providers For Your Ford Ranger 4×4
Here is a list of manufacturers that make suspension kits/systems for your Ford Ranger 4×4
Kits are listed in alphabetical order by manufacturer.
Notes:
Question: Why does it say it does NOT fit 1987-1988 Ford Rangers with "High Rider STX" option?
Answer: The Ford Ranger came with a STX option in 1987-1988 that actually made the truck 1-1/2 – 2 inches taller than stock. If you added a suspension kit to one of these trucks, you would gain 1-1/2 – 2 inches less lift than advertised.
Question: Why are there different kits for the 1998-2001 and 2002-2011 Ford Ranger 4x4s?
Answer: The lower ball joint is lower (further away from the center of the hub) on the 2002-2011 steering knuckle. The knuckle, therefore, is taller than a 1998-2001 knuckle. The caliper bridge is also increased in height from the 1998-2001 bridge. Both are minimal, but enough to make a difference in lift knuckle design.
Autofab (For 1983-1997 Ford Ranger 4×4)
According to Autofab:
"Pricing does not include for options. For 1983-1997 Ford Ranger / Bronco II trucks, 16 inch wheel travel, custom coil spring buckets and shock hoop structures. Specialty Pivot brackets duplicating Ford Factory 2 inch lift on Ranger STX trucks. This allows the middle U-joint to operate to achieve 16 inches of wheel travel. Drop pitman arm is required. Beams are cut and turned for alignment correction of 4 inch lift. Special Autofab radius arms correct the castor alignnment and allow for more droop and wheel travel. A variety of shock configurations available, such as 2 inch shocks 2 per wheel as a proven starting point. System compatible with Autofab equal length tie rod steering system. Shipped by pallet and truck freight additional."
From TRS:
Basically, this is more of a long travel kit. The beams were modified to correct steering camber so they don't need the long suspension drop brackets found traditional lift kits. They drop brackets they do use are based on the ones used on the 1987-1988 Ford Ranger STX that had a factory 2-inch lift. The kit also has longer radius arms and shock hoops to use longer shocks. The whole kit combines to offer 16-inches of wheel travel.
If you're looking for a bolt on suspension kit that offers a lot of wheel travel, then we highly recommend this kit for your 1983-1997 Ford Ranger 4×4
Link: http://autofab.com/mdl28kit.htm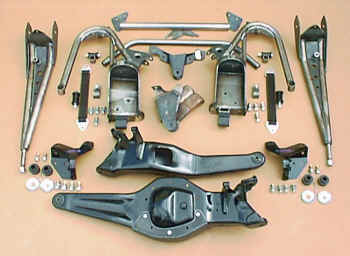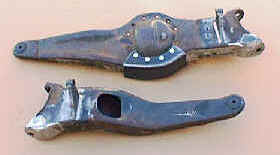 [TRS APPROVED]
BDS (For 1983-1997 Ford Ranger 4×4)
This is the BDS kit. This system includes two Pro-Ride coils springs for the front, pitman arm for steering correction, radius arm drop brackets, heavy duty axle pivot drop brackets, bump stop extensions, anti-sway bar drop brackets, and brake line relocation brackets. The rear is lifted with a 4″ block and add-a-leaf system.
TRS NOTE: Uses plate-style axle bracket extension (creates a clearance issue with the Dana35 axle housing not allowing full movement of the suspension, can damage the axle housing)
Link: http://www.bds-suspension.com/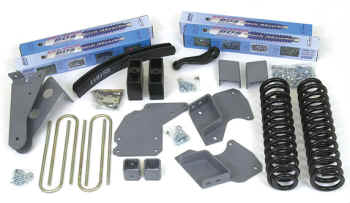 Camburg (For 1989-1997 Ford Ranger 4×4)
Camburg lists their kits for 1989-1997 4×4 Rangers. Were not sure why since it's the same suspension set up from 1983-1997. At Camburg you can find components for entry level, performance and race applications. They build custom radius arms (shown right), cut and turned beams, coil over kits, bed cages for shock mounting and even a 3-link rear suspension kit.
If you're looking for a kit that will give you a lot of wheel travel in your 1989-1997 4×4 Ranger, your looking to build a 4×4 pre-runner or you want to go racing, Camburg is definitely a company you should check out.
Camburg offers what they call a 5.5 Performance kit. It includes: Modified TTB Housings, Heim Radius Arm Kit w/ Tranny X-member, 5.5″ lift Coil Springs, Bilstein 5100 Front Shocks, Stainless Steel Extended Front brake Lines, Alignment Cam Kit.
Camburg offers modified TTB housings (4×4 axle beams). Rather than using cheap drop down brackets to correct camber geometry with modify your existing TTB housings. This way you don't lose ground clearance, use a bracket that can stress the frame and create stress fractures and we keep the stock pivot points so you're not introducing more bumpsteer in the steering geometry.
From TRS:
If you're looking for a suspension kit that offers a lot of wheel travel, then we highly recommend this kit for your 1983-1997 Ford Ranger 4×4. Camburg not only understands Ford Rangers, but they've raced them in the desert.
Link: http://camburg.com/vehicles/89-97-ranger/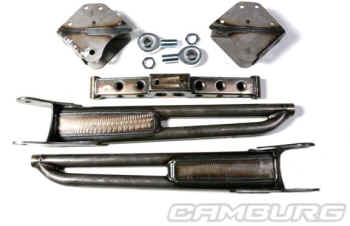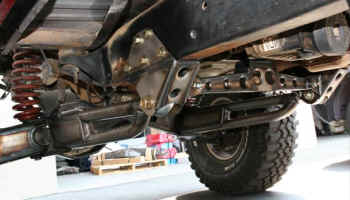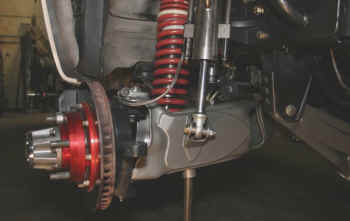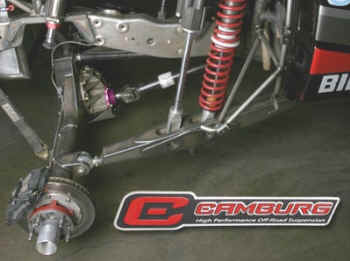 [TRS APPROVED]
Dixon Bros. Racing (For 1998-2011 Ford Ranger 4×4)
Dixon Bros. Racing makes a 4×4 Long Travel Suspension Kit for:
1998-2008 Ford Ranger XLT & EDGE 4wd
1995-2001 Ford Explorer 4wd
2001-2005 Ford Explorer Sport-Trac 4wd
Suspension Kit Includes:
Tubular upper control arms, with bushings and balljoints installed
Boxed plate lower control arms with bushings and balljoints installed
Shock hoop with crossbar
Complete front axles with custom length heat treated shafts and high angle 930 CVs
Steering Tie-rod Extension
Brake lines, Limit straps, bolt kit
14-inches of wheel travel. 4.5-inches wider per side. Uses 8-inch stroke coilover shocks, not included (replaces torsion bars).
Weld-in shock hoop available for most common shock brands
Optional Hydraulic Bumpstop Mount
Optional Steering Clevis Kit Available
TRS NOTE: Replaces torsion bars with a coilover shock assembly. You'll need wider fiberglass front fenders to cover your tires.
Link: http://www.dixonbrosracing.com/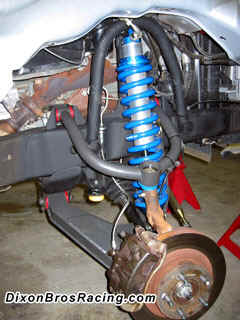 [TRS APPROVED]
Rough Country (For 1983-1997 Ford Ranger 4×4)
Rough Country's 4-Inch suspension kit features replacement front coil springs, radius arm drop brackets, I-beam drop brackets, power steering pitman arm, (4) RC Hydro 8000 series shocks, u-bolts, and either rear blocks or new leaf springs.
Notes:
Does NOT fit 87-88 Rangers w/"High Rider STX" option.
Vehicles w/ manual steering add manual pitman arm.
Sway-bar drop brackets are required for trucks equipped with front sway-bars.
TRS NOTE: Uses plate-style axle bracket extension (creates a clearance issue with the Dana 35 axle housing not allowing full movement of the suspension, can damage the axle housing)
Link: http://www.roughcountry.com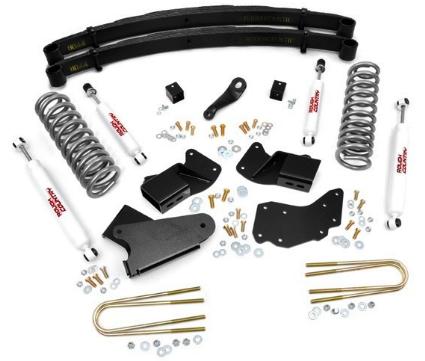 Skyjacker (For 1983-1997 Ford Ranger 4×4)
Skyjacker has one of the best systems on the market for 1983 – 1997 Ford Rangers.
Skyjacker kits come with new heavy duty drop brackets, dropped pitman arm, 4-6 inch coils and either rear blocks, add-a-leafs or springs. You can upgrade to the longer radius arms that comes with a new transfer case / transmission crossmember and order new brake lines.
The Skyjacker 2″ lift kit includes front coils and rear add-a-leafs.
The 4″ & 6″ Class I lifts include coils and all drop bracketry. Kits use rear blocks and/or add-a-leafs and Systems use rear leaf springs.
The Class II kits and systems are available for 4″ and 6″ lifts and include a pitman arm, sway bar end link & replacement tubular offset radius arms extended 15″ longer than stock offering up to 30% more wheel articulation and less frame fatigue than using radius drop brackets. Newly designed center hinge brackets are both stylish and more rugged than stock or standard applications.
Kit's are available from 1.5 to 8-inches
TRS NOTE: We believe these are the best bolt on kits out there for the 1983-1997 Ford Ranger. They have beefy replacement drop brackets and can be had with a nicely constructed set of radius arms that have a new transmission crossmember that bolts between the rear radius arm mounts to brace them.
Links: http://www.skyjacker.com/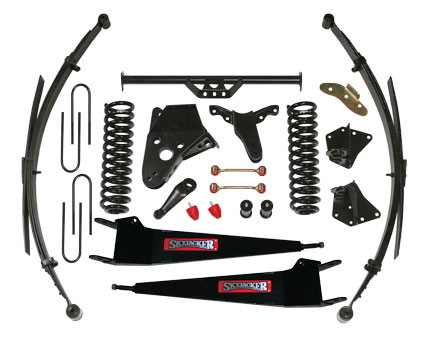 [TRS RECOMMENDED]
Solo Motorsports (For 1986-1997 Ford Ranger 4×4)
Solo Motorsports Dana 35 TTB beams are extended 4″ & 6" over stock. They can be ordered with or without 1″ uniballs. Each beam receives full plating along with a front gusset on the driver's side beam with a raised fill plug. When 1″ uniballs are added to the beam pivot points, additional structural gussettng is added. Each beam is also Cut & Turned to allow for camber & caster.
Included along with the beams, are 1 pair of steering tie-rod connectors and modified axles. Both Dana 35/44 beams will bolt into the stock pivots to run either a coilover or a lift coil in the stock buckets. 17 4wd inches of wheelt travel is possible with 4.5 inch over stock beams and 19 4wd inches of wheel travel is possible with 6″ over beams. A custom engine cage must be built to achieve 17 or 19 inches of wheel travel. There is a Core Charge for the beams and axles or we exchange at time of purchase or use your beams and axles. For the "Hardcore Pre-runners', we offer the option to convert your Dana 35 spindles, hubs, and axles with Dana 44 spindles, hubs, and axle modifications for an additional charge.
Solo Motorsports offers our 1.25″ Heimed Extended Radius Arms compliment any Cut & Turned or 4.5" Long-Travel TTB Beams. They are used with both Entry-Level Kit or Custom Shock Engine Cages. Construction consists of 1.75" x.120 DOM seamless tubing and 1/4″ cold-rolled steel plating. These arms come with massive 1.25" heim joints for strength and articulation. Expect 13" of 4wd wheel travel with our Entry-Level Cut & Turned Beam Kit and up 17″-19" of 4wd wheel travel with our 4.5″ Long-Travel Beams depending on tire size.
Solo Motorsports offers there beams and radius arms as a kit, or individually.
Link: https://www.solomotorsports.com/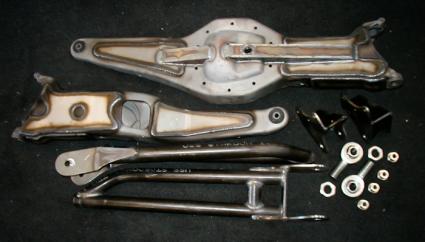 [TRS APPROVED]
Superlift (For 1983-2011 Ford Ranger 4×4)
(See note below on years)
1983-1997 – Ford's Twin Traction Beam (TTB) suspension, used on both 2WD and 4WD models, features coil springs, two front axle "beams" and radius arms. With this design, as front ride height is raised, the tops of the tires lean outward creating positive camber angle. Increasing ride height also creates a more-negative caster angle.
New pre-set coil springs provide lift. In the introduction we discussed how negative camber is induced (the tops of the tires lean outward) as the vehicle is raised. Superlift uses new axle pivot brackets, laser-cut from .25″ steel plate, to lower the inboard ends of the axle beams and restore camber. New camber alignment bushings, available from your Ford dealer or local alignment shop, may be needed to precisely "dial-in" camber angle.
Caster angle must also be addressed. Caster correction is handled by your choice of either lowering the stock radius arms at their frame (rear) end attaching points, the route taken with our Standard Series system, or by replacing the stock radius arms entirely with our extended length Superunner Long-Arm radius arms.
Kit Specifications:
Pre-set replacement coil springs minimize settling
Axle pivot brackets, constructed of .25″ thick steel plate, correct camber angle
Caster angle corrected with Standard Series plate steel radius arm brackets or Superunner long-arm radius arms
Dropped pitman arm reduces steering linkage angles; optional Superunner replacement steering linkage system available
Superide shock absorbers
Rear lift options: lift blocks, with or without add-a-leafs, Superide replacement leaf springs
Longer Bulletproof brake hoses, made of Kevlar reinforced braided stainless steel, or replacement rubber hoses available for most applications
TruSpeed speed signal calibrator available for models with electronic speedometer
Limited Lifetime Warranty
These kits are available from 1.5-5.5 inch kits.
1998-2011 – The newest Ranger is basically a smaller version of the new F-150; both have torsion bars and upper / lower control arms. Like our F-150 lift, the cast nodular iron knuckles are the system's key. Ride Quality & Lift Height One key difference with the mid-size Ford, however, is the odd tulip-style driveshaft used for the front differential. We have found that these driveshafts wear rapidly after the vehicle is lifted and cause vibration over time. Expect the OE front driveshaft to last no more than 20,000 miles after the vehicle is lifted. Therefore, Superlift offers a heavy-duty replacement front driveshaft that incorporates a standard CV joint at the transfer case for improved durability and longevity.
Kit Specifications:
Retains factory ride quality, steering geometry and CV axle angles
Increases wheel travel
New nodular iron knuckles, not ball joint spacers
Load bearing bracketry made of .25″ thick plate steel or heavy-wall tubing
Full width differential / control arm crossmembers provide lateral rigidity
Front / rear Superide shocks with yellow boots included
Optional two-piece front skid plate protects steering and differential – available in mild steel or brushed stainless steel with "flame" logo
Heavy-duty replacement front driveshaft available
Speedometer recalibration available
Limited Lifetime Warranty
The 1998-current kits are a 3-4 inch kit.
TRS NOTE: We really like the Superunner steering kit and would highly recommend it.
Note On Years: We commend Superlift on being the only manufacturer to make a kit that will fit every rear of the 4×4 Ranger. We wish their people would correct the year listings for the newer kit instead of only listing it for Rangers up to 1995. We know of Ranger owners using it on newer models.
Links: https://www.superlift.com/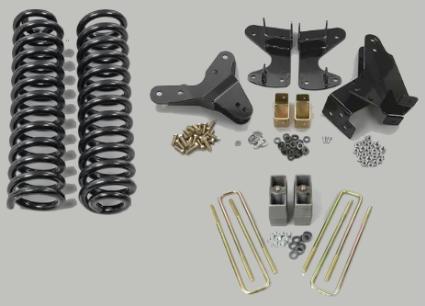 Basic Kit – Rear springs are optional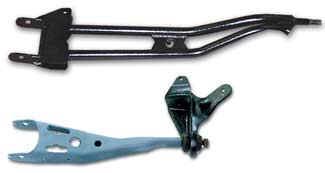 Longer radius arms top, stock arms bottom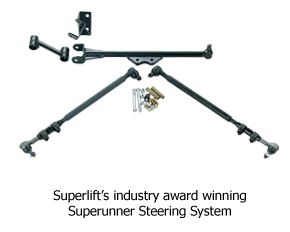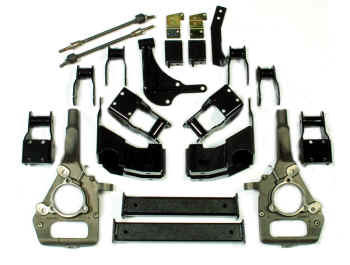 New IFS Style Suspension Kit
[TRS APPROVED]
Tuff Country (For 1983-1997 Ford Ranger 4×4)
Tuff Country EZ-Ride Suspension's Ranger & Explorer lift kits include axle pivot brackets featuring adjustable camber bolts for a precise alignment. Radius arm drop brackets are included with "EZ-Ride" kits. Performance kits include new extended radius arms for better tire clearance and more suspension articulation.
Axle pivot brackets include camber adjustment bolts for precise alignment
Coil springs give comfortable ride, yet durable enough for off-road
Radius arm drop brackets included
Performance system includes extended radius arms
4-inch kits
The Tuff Country kit is unique in the sense that it uses a camber washer and bolt at the axle pivot to raise or lower it to help with the camber alignment. All other kits just bolt back together with the factory bolt.
Link: http://www.tuffcountry.com/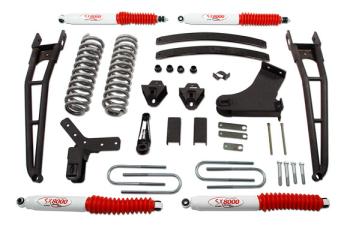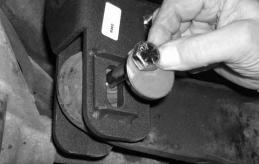 (Tuff Country camber alignment washer and bolt)