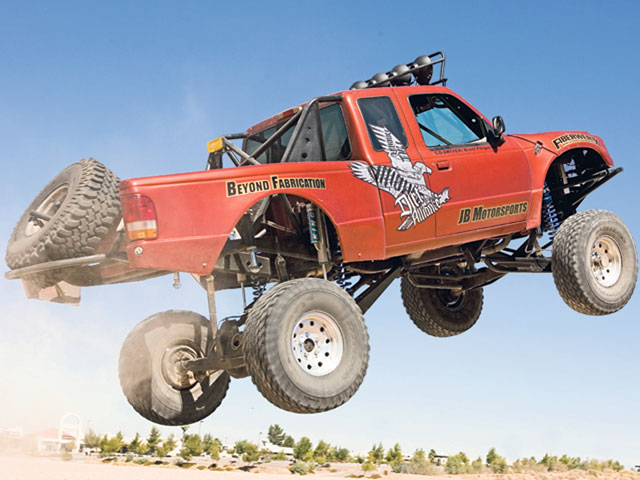 The 1997 Ranger you see here is now owned by Shaun Kite. At the time these photos were taken, it was owned by Chad Leising. It has been his (Chad's) dream of owning a vehicle that would both rule the desert and exemplify the new generation of off-road lifestyle.
Chad contacted Travis Siflinger's company, Dirt Alliance (DA), and shortly thereafter became the newest addition to the DA team of vehicles.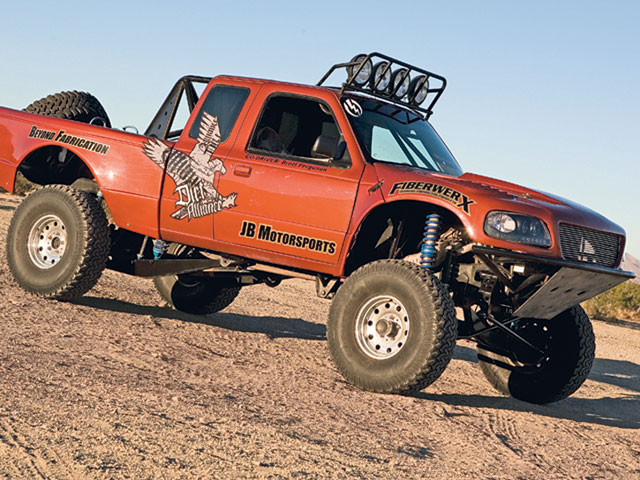 When Chad purchased this '97 Ford Ranger, it was not a complete vehicle. He purchased just the cab and frame and delivered it to JB Motorsports of Oceanside, California. Unfortunately, JB Motorsports has since closed its doors. The paint is Daytona Sunset Orange Metallic paint typically found on the 2006 Chevy Corvette. Epic Audio of Oceanside, California, was responsible for laying down the color.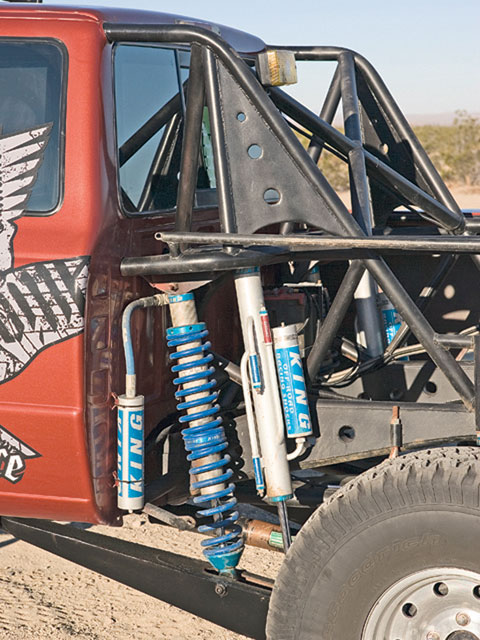 Following the cage work just after the cab, you can see the three-link suspension setup. Chad chose King 2.5x14-inch coilovers, King 2.5x16-inch triple-bypass shocks, and King 2.5 hydraulic bumpstops for the rear. The rear travel was measured at 28 inches, which gives the driver plenty of confidence under most terrain conditions.
The entire truck was built out of 1-3/4-inch DOM tubing, ensuring safety and security. Thirty-five-inch BFGoodrich All-Terrain TAKO tires are wrapped around Alcoa forged F-150 wheels, with a matching spare mounted in the rear. For those of you who are not quite sure why so many race trucks and prerunners run their spare tires so far in the rear, it is to provide protection in case someone gets a little too close following your vehicle off-road. The combination of a stout rear bumper and a little rubber from a spare tire constitutes a good wall of protection. It also helps balance the weight of the vehicle.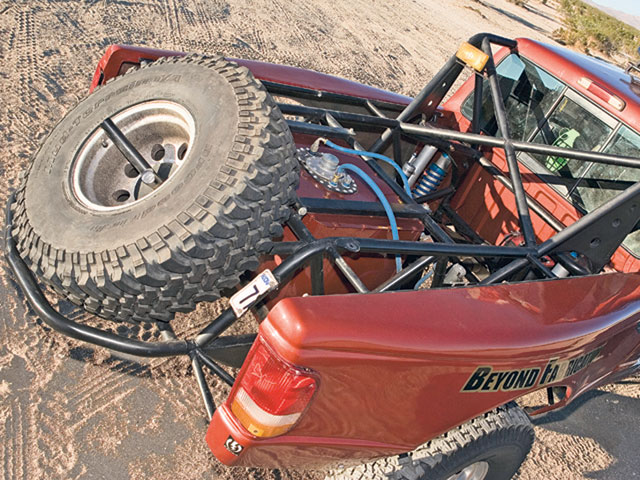 The rear 'cage offers just enough safety and stability without looking overbuilt. A Jaz Products 32-gallon fuel cell has been installed to keep weight shifted to the rear of the truck as well as to carry enough fuel for a full day of fun. Jaz fuel cells have a seamless, cross-linked polyethylene inner shell and are filled with mil-spec B-83054 aviation foam. Both of these properties keep the fuel fully protected.
JB Motorsports was also responsible for the construction of the suspension system under this flying Blue Oval. The front equal-length I-beams are 9 inches wider per side, pulling 22 inches of wheel travel. The front shocks are King 2.5x14-inch coilovers with a matching set of King 2.5-inch hydraulic bumpstops. Next up will be the addition of a set of King 2.5-inch triple-bypass shocks to aid in soaking up the whoops.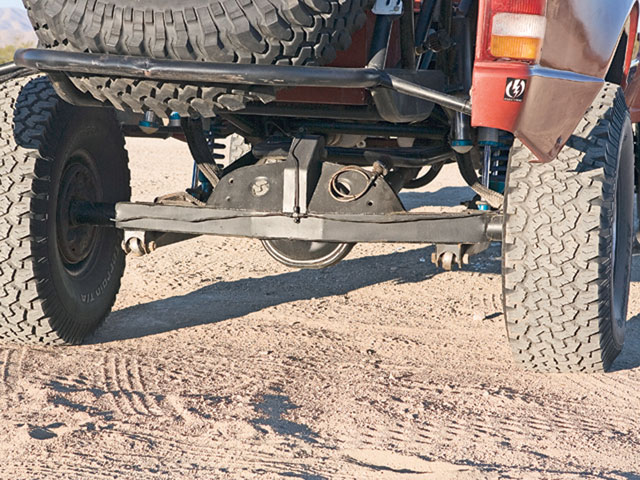 The rear axle is a custom-gusseted Ford 9-inch stuffed with a Strange Nodular third member running a full chrome-moly spool locker and 4.86-ratio gears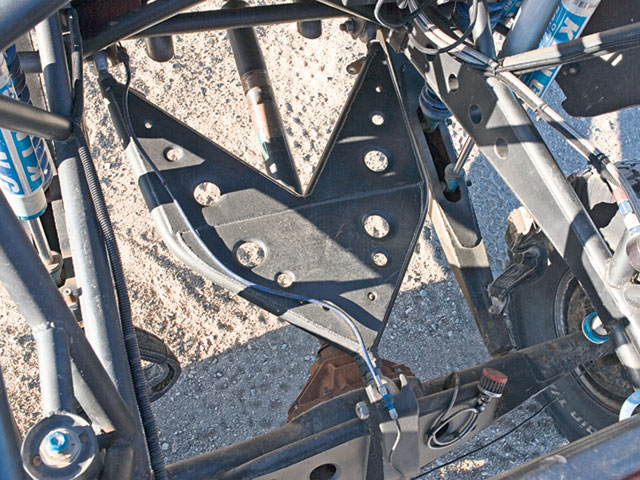 Here's a view of the rear suspension.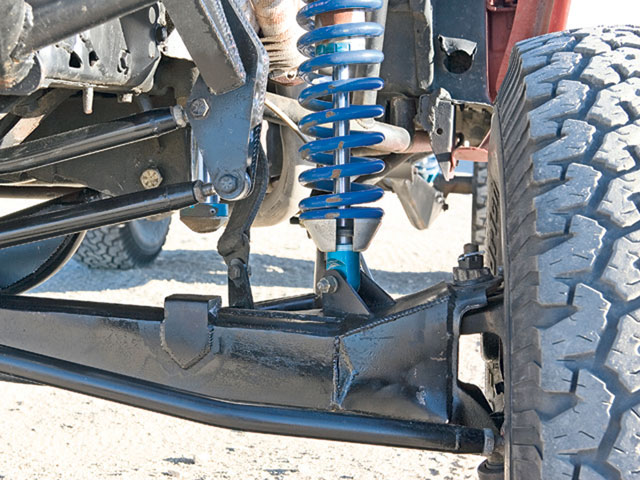 The braking systems both front and rear were pulled off a Ford F-150 using 4WD hubs and disc brakes. Since JB Motorsports has shut down, Brett Ferguson of Beyond Fabrication is now responsible for the fabrication and suspension on the truck. With how far Chad pushes his truck, Brett has already done a few minor repair jobs as well as doing all of the prep on the truck for each outing.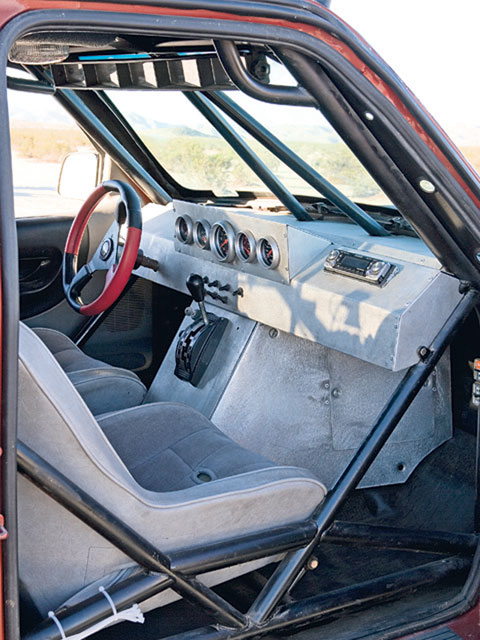 The custom dash is fitted with a complement of Auto Meter gauges, an Art Carr race shifter, a GT race steering wheel, and soon will feature an audio system from Epic Audio. Secure seating arrangements have been made with PRP race seats and Crown five-point harnesses attached to a circumference of metal surrounding the occupants keeping them safe in case one of Chad's launch pad attempts goes sour.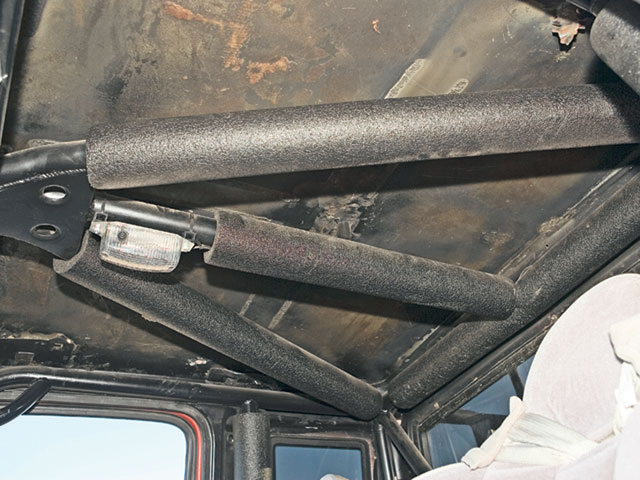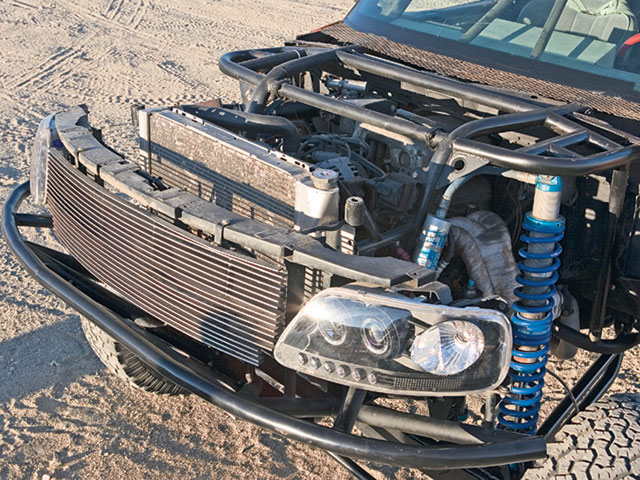 Under the hood is a Ford 302 H.O. engine pushing over 300 hp through a Turbo 400 transmission. A Gibson exhaust system was also added to keep the truck breathing properly in dirty environments. Chad already has plans to upgrade the power of his Ford with a 343cc Stroker engine built from top to bottom.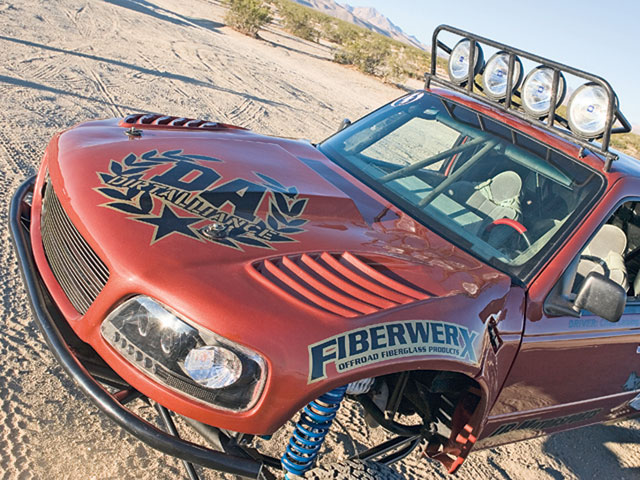 FiberwerX did an incredible job fitting its fiberglass fenders, bedsides, and F-150 X-treme hood to the vehicle. The hood scoop and louvers really make this truck stand out among other Ranger prerunners. A complete set of four Hella Rallye 4000 lights is mounted to the 'cage on the roof for night-vision duties.